Getting here by ferry, yacht or cruise ship
Ferries to and from Savusavu
There's a network of ferries connecting Savusavu to Suva and Taveuni; however, ferry timetables often change. We have done our best to collect current information – but please check with the ferry company once you are in Fiji. It's best to book about a week ahead.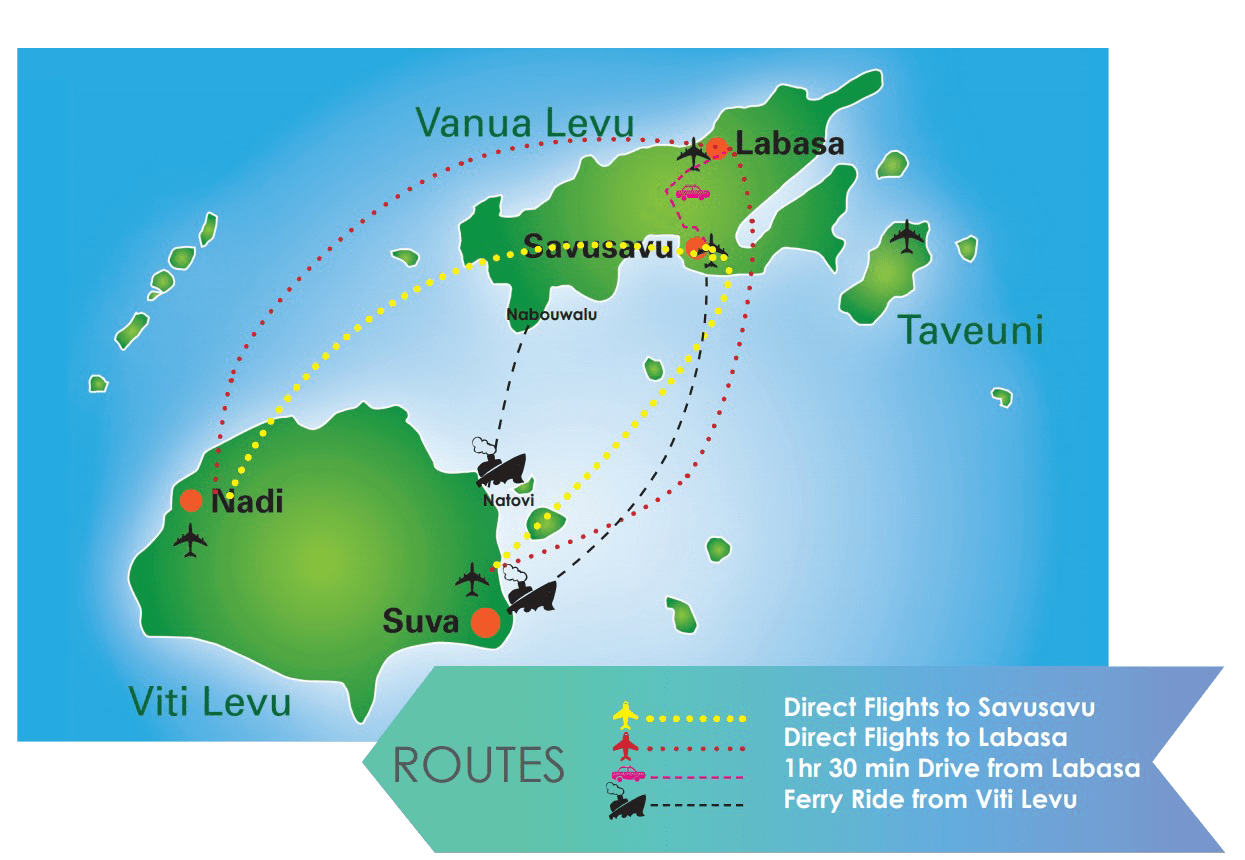 Ferries between Suva and Savusavu
Goundar Shipping runs an overnight ferry service between Suva and Savusavu on Monday and Friday. The Lomaiviti Princess (I, II or II) departs from Suva's main wharf around 6pm and arrives at the Savusavu jetty at dawn, with similar timings for the return journey on Tuesday and Saturday. Options include cabins and a first class lounge with seats and floor space where you can roll out a mat and sleep. It's a RO-RO ferry so you can take your car or go as a foot passenger.
Suva office: (679) 3301035 and (679) 3301020
Savusavu office: (679) 8850108 and mobile (679) 7775472
Ferries between Suva (Natovi) and Nabouwalu
There is normally at least one ferry – and often more – plying this route daily. Natovi is about an hour's drive from Suva, on the east coast of Viti Levu, while Nabouwalu is about a two hour drive from Savusavu, on the west end of Vanua Levu. The advantages are the shorter sailing time (2.5 to 4.5 hours depending on the boat/conditions), and the daytime crossing.
Patterson Brothers Shipping runs the Searoad Service, with buses straight through from Suva bus station to the centre of Savusavu via this route. Alternatively you can take your car, or book a taxi at either end.
Suva office: (679) 3315644
Savusavu agent: (679) 8850469
InterLink also runs a daytime ferry between Natovi and Nabouwalu with a similar bus service. The new boat Ohana does the journey in 2.5 hours in good conditions. Call (679) 9992026
Ferries between Taveuni and Savusavu
Goundar Shipping's Lomaiviti Princess does the return journey from Savusavu to Taveuni twice a week (after it arrives from Suva). The journey along the south-east coast of Vanua Levu takes about four hours each way.
Savusavu – Taveuni:
Tuesdays: reporting time 7.00am (arrive Taveuni approx. 1.00pm).
Saturdays: afternoon sailing; arrives Taveuni later that night.
Taveuni – Savusavu
Tuesdays: departs approx. 1.30 / 2.00pm arrives Savusavu Tuesday evening.
Sundays: departs am arrives Savusavu approx. 1.00pm.
Alternatively, a smaller ferry does the much shorter crossing between Natuvu (Buca Bay) and Taveuni, usually daily. A bus leaves the town bus stand at 7.30am and drives down to Natuvu (approx 2 hours) to connect with the ferry (crossing approx. 1 1/2 hours).
Savusavu is the preferred choice of many yachties making a voyage across the South Pacific, and for good reason. Apart from its favourable geographic location to break a long journey, Savusavu is an official yacht entry port in Fiji offering the mandatory quarantine, health, immigration and customs services. You can find essential information from the Fiji Ports Authority here, and information about facilities and services in Savusavu below.
See also the Savusavu cruising guide which has a lot of useful information for sailors in the area.
Savusavu is an official entry point for yachts visiting Fiji. Here you will find the required immigration, customs and biosecurity officials to help you.
The quarantine berth with its yellow flag is located on The Copra Shed finger wharf. The officials are available only between 0800 and 1630 hours Monday to Thursday, and between 0800 and 1600 on Friday.
Note: you must not come ashore until permitted to do so by the officials.
The Copra Shed Marina
27 berths, 17 (white) block moorings. Assistance for clearance. VHF 16. Phone: (+679) 885 0457. Email: [email protected] . Cruising permits. Quarantine wharf.
Marina fees include use of dinghy dock, showers, toilets, garbage disposal, potable water (containers only), mail pick up and forwarding (Fiji only) and weather fax daily.
Waitui Kelekele Marina
WKML Building, Main Street, Savusavu
24 swing moorings. Fees include assistance with clearance. Facilities include shore power, showers and toilets. Cruising permits available. Marina office building also houses a bar/restaurant and a laundry service. Marina manager: Genevieve Likuyasi. Phone: +679 885 3057. Mob: +679 925 7111 Email: [email protected] VHF 16. PO Box 465, Savusavu, Fiji.
Savusavu Marina & Boatyard
20 screw moorings, 7 block moorings (yellow), berths. Boatyard, Haul-out. Workshop. VHF: 16. Phone (+679) 900 5003. Email: [email protected] Contact: Curly Carswell
ICA Port Captain, Cruising seminars. http://curlycarswell.blogspot.com/.
Nawi Island
Nawi Island is a being developed as a secure berthing facility/resort and is located immediately opposite the town centre of Savusavu on Nawi Island. Stage one offering 130 berths for superyachts aims to be completed in 2021. The facility will have pump-out facilities and finger berths with power and water available to all yachts. A dry dock is also being built at nearby Balaga to handle superyachts.
Stage 2 of the Nawi Island development is due for completion in 2022. This will include an immigration office, harbourmaster, a resort, villas and accommodation for visiting sailors and a real estate office.
Contact:
Paradise Tabucala
Admin Coordinator & Support Officer
Nawi Island Limited/South Pacific Marine Limited
PO Box 101, 2 Copra Shed Marina, Savusavu, Fiji Islands
m. +679 891 6896 | t. +679 885 3600
Savusavu Marina & Boatyard
Haul-out. Workshop. VHF: 16. Phone (+679) 900 5003. Email: [email protected] Contact: Curly Carswell
ICA Port Captain, Cruising seminars. http://curlycarswell.blogspot.com/.
Diesel mechanics and electricians
Diesel repairs and electrical work can be undertaken in Savusavu. For parts, these can be flown in to nearby Labasa or Savusavu and can be available in days.
Engineering/mechanical/refrigeration services are limited. Ask prices first. Simple tasks only.
Workshops and repairs
Registered electrician: Savusavu Motor Winders. Contact RONISH RAHUL PILLAY W/L #270 [email protected] Tel: 8853093/7073093
Shane Bower Metal Fiji. Metal artist. Metal workshop, welding. +679 9475450
E: [email protected]
Ahmed Upholstery. Upholstery, Canvas. Located in Marina Plaza courtyard. Phone 974 7714
Ozie Electronics. Solar panel, Deep-cycle batterie, Alarm, Electronics repair.
Email: [email protected]
Sanjay Mechanics. Repairs of outboard, power generator, inverter, car. Phone 933 1316
Several cruise companies have discovered our Hidden Paradise. Cruise ships normally anchor in the bay for one day, and bring passengers ashore by tender.
Planning your day
You will be brought to shore by tender, and will disembark at the Copra Shed marina, which is at one end of the main street. If you have already arranged a tour, this is where you will be met. If not, there will be tour operators available here to direct you to any of our activities. Taxis will also be ready and waiting here.
Activities close to town that we recommend are a tour of the J Hunter Pearl Farm, the Flora Tropica garden or KokoMana's cocoa and chocolate tour. Just a little further afield, you may like to visit a waterfall or a traditional Fijian village. You can arrange these activities either on board before arrival, directly with the tour operators (see contact information on this website) or through a tour guide, for example Savusavu Tours or Trip n Tour.
The Copra Shed has a cafe, a restaurant, and the Yacht Club where there is a bar and (usually) live music. This is a great place to relax, and you are most welcome to enjoy these facilities. There are other choices for dining and drinking, most only a short walk away.
Venturing out of the Copra Shed, you will find rows of stalls lining the main street. Please enjoy browsing, and if you can, support our local community and take home some of our fine local handicrafts. A little way further down the main street, you will find our fresh fruit and vegetable market, where you can stock up on some locally grown tropical produce.
If you would like to visit one of our resorts, for a meal or a drink by the pool, Daku Resort, Koro Sun Resort and the Hot Springs Hotel are all ready to welcome you. They can also arrange a snorkelling trip, if you book this ahead. Snorkelling can also be arranged through some of our dive operators.
Cruise ships vary in size from several thousand passengers to a couple of hundred, so select the one that works for you. The following companies have cruise itineraries that include Savusavu:
Windstar – The super-luxury Wind Spirit